STEWED MUSHROOMS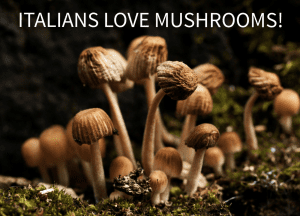 My Bolognese mother taught me how to cook. I became so in love with cooking northern Italian cuisine that I paid off my student loans in Boston by cooking for people. I hope you enjoy the legacy of my mother in these original recipes inspired by mom's love for homemade Italian food.
Ingredients
 1 – 1/1/2 lb firm fresh mushrooms, (domestic whites)
6 tbsp olive oil
2 cloves garlic, finely chopped
salt and freshly ground pepper
3 tbsp chopped fresh Italian parsley
clean the mushrooms carefully by wiping them with a damp cloth of paper towels.
cut off the woody tips of the stems and discard. Slice the stems and caps fairly thickly.
gear the oil in a large frying pan. Stir in the garlic and, after about 1 minute, the mushrooms. Cook for 8-10 minutes, stirring occasionally.
You may wish to control the reduction by slightly covering the pan.
Season with salt and pepper, and stir in the parsley.
NOTE: if the garlic turns black – the mushrooms are no good!
cook for 5 minutes more, and serve at once.
This is a lovely side dish!  A great a side dish to accompany steak and chicken!
Buon appetito!