POTATOES BAKED WITH TOMATOES – serves 6 people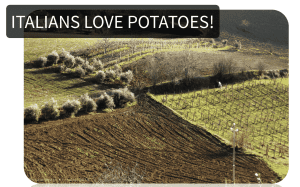 My Bolognese mother taught me how to cook. I became so in love with cooking northern Italian cuisine that I paid off my student loans in Boston by cooking for people. I hope you enjoy the legacy of my mother in these original recipes inspired by mom's love for homemade Italian food.
 Ingredients:
2 large red or yellow onions, thinly sliced
2 lb potatoes, peeled and thinly sliced
1 lb tomatoes, fresh or canned sliced, with their juice
6 tbsp olive oil
1 cup freshly grated Parmesan or Romano
salt and freshly ground black pepper
a few leave fresh basil
1/4 cup of water
preheat the oven to 350°F. Brush a large baking dish generously with oil.
arrange a layer of onion in the dish, followed by layers of potatoes and tomatoes. Pour a little of the oil, and sprinkle with the cheese.  Season with salt and pepper.
repeat until the vegetables are used up, ending with an overlapping layer of potatoes and tomatoes. Tear the basil leaves into pieces, and add them here and there among the vegetables.
Sprinkle the top with cheese, and a little oil.
pour on the water. Bake for 1 hour, or until tender.
if the top begins to brown too much, place a sheet of foil or a flat cookie sheet on top of the dish. Serve hot.
NOTE: this simple, hearty dish, is best when tomatoes are in season, but can also be made with plum tomatoes.
Buon appetito!