LINGUINI AND CLAMS– serves 4 people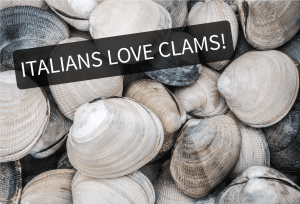 My Bolognese mother taught me how to cook. I became so in love with cooking northern Italian cuisine that I paid off my student loans in Boston by cooking for people. I hope you enjoy the legacy of my mother in these original recipes inspired by mom's love for homemade Italian food.
ingredients:
1/3 cup of high quality olive oil
1 medium onion, preferably yellow and ripe
3 cloves of garlic finely chopped
1 cup of vermouth or white wine
4 ounces of fresh Italian parsley – large green leaves
4 cans of Swan Bumble Bee minced clams – separate juice from clam meat
1 pound of linguini, imported, from Italy
salt and grounded pepper
red pepper (optional for those who like this dish a little spicier)
drain the four cans of clams, separating the juice from the clam meat. Distribute into 2 bowls, one for the juice, one for the clams.
add olive oil to a large frying pan and turn on to medium heat
lower the temperature and add onion, cooking it until the onion is almost caramelized. Do this for the resulting sweet nutty flavor and  yellow/brown color.
add your garlic and cook for another 2 minutes
add the cup of vermouth and cook it for 5 minutes at low temperature allowing the vermouth to burn off. Add salt and pepper.
NOTE: at this time you will need to boil water in a large pot
add the Italian parsley, distributing throughout
add 2/3's of the clam juice and cook off until the sauce is sticky and has enough liquid blend into the pasta.
NOTE: this is a very important part of the process! Be patient! Let the ingredient coagulate and reduce the sauce to a semi-stickiness. The resultant taste when joined with the pasta is worth it!
Turn the heat off, if necessary, so you do not reduce too much!
cook the pasta al dente and drain it. Return the linguine to the empty pot that boiled the water. Add the remaining 1/3 of clam juice and raise the temperature to medium.
turn the pasta over and over so it absorbs the pasta. Add additional salt during this process.
take the clam sauce and cover the pasta and continue to rotate the pasta coating it over and over again. Serve hot.
NOTE: this is a stunning linguine and clams dish that will satisfy anyone who loves this iconic Italian favorite!
Buon appetito!